At Scott & Scott, LLP our legal and technology professionals strive to deliver superior service with the highest level of integrity and honesty. Our firm is founded on the premise that collaboration between legal and technology professionals is necessary to solve complex business problems. By combining these resources in one firm, we strive to serve our clients' needs better than law firms or technology services firms working independently. Today, legal and technology market forces are ever changing, and we are committed to monitoring the developing technology and emerging law in order to provide highly-focused representation.

Culture

The culture at Scott & Scott, LLP is different than what you would find at most other law firms. We are casual in our dress and try to make it a point to have a few laughs during the day. Our lawyers have fun working together to solve complex legal issues related to technology. Our day starts with a morning call, and teamwork is the key to our success. Clear and direct communication and well-defined service delivery processes lead to consistently high client satisfaction and employee engagement.

Working at Scott & Scott, LLP is exciting. Representing some of the world's largest corporations in industry-leading transactions is pressure-backed and rewarding. Many members of our team work from home or otherwise work out of the office several days a week. We use e-mail and the morning call to keep the team aligned and cases moving toward conclusion.

We regularly measure client satisfaction using the NetPromoter system. We ask our clients the key question: "How likely are you to refer us to a friend or colleague?" More than 80% of our clients have said they would recommend us to their friends and colleagues.

We believe that employee retention and engagement are the key drivers to our consistently high client satisfaction scores. With the exception of one employee, all of our attorneys and staff have worked with us more than 7 years. We regularly engage our employees in candid career discussions focusing on core retention questions originally outlined in First Break All the Rules, by Marcus Buckingham. In our most recent employee satisfaction report administered by Gallop, we scored 84% in overall employee engagement. All employees receive an anniversary bonus that grows every year and are eligible for quarterly bonuses.

Over the last 10 years, Scott & Scott, LLP has grown into a successful national boutique law firm. With that growth, we are fortunate to have the ability give back to our community. We match our employee's charitable donations 300% and the firm's Charitable Trust works to support employee and client selected charities.
Testimonials
Highest recommendation. An absolute wizard in the substantive areas and a talented negotiator as well.
Scott and Scott understands our business and are very responsive.
Your office was extremely helpful to us during our BSA ordeal.  Very easy to work with and always gave us really great advice regarding a subject matter that we were not familiar with.
Excellent representation; outstanding communication; reasonable fees for service.
Your services were timely, fairly priced and straight to the point of what we needed done.
Great service and results.
For the third time I have called on you guys to negotiate on our technology company's behalf. You took the time to understand our business model, where we were going and what we wanted to accomplish. You successfully helped us reach our goal each time. Our company is growing, our profit is up, and we know we can depend on Scott and Scott to be there when we need them in the future. Thank you for being consistent.
I found the firm most knowledgeable in all IT subject matter and the quality of documents prepared was excellent!
Trust and known quality of the work that the legal team does on behalf of its clients and the customer care that they provide beyond legal acumen.
Great work and representation. The result was better than we could have expected.
Thank you for the service you and the team and Scott & Scott, LLP have provided us here at SMART I.T. Services, Inc. It was a pleasure working with you, especially since your service was fast, friendly, flexible and accurate. The fact that you work in our industry and have experience with the issues associated with it, were just icing on the cake!
It is with great and sincere pleasure that I recommend Scott and Scott, LLP. Scott and Scott has done an exemplary job for the Waypoint Solutions Group team, writing and reviewing contracts and developing our information security program and information security incident plan. Having a trusted and competent firm to handle our specific and complex needs as an IT company, allows us to focus on and deliver the highest quality solutions for our customers. Rob Scott and the entire Scott and Scott organization display unparalleled industry expertise and professionalism, and...
Mr. Scott and his team have provided my organization and its over 30,000 members with a wealth of leadership, expertise, and legal advice. When it comes to IT related issues there is no other law firm I would entrust to render advice and counsel to me and my organization. Rob and his firm are at the top of their profession in the Information Technology community. I recommend Scott & Scott to all my clients and friends who are in the business. If you are in the IT profession and need...
Awards
Scott & Scott, LLP Voted Technology Law Firm of the Year - USA
Finance Monthly - 2020
Scott & Scott, LLP Voted Technology Law Firm of the Year - USA
Finance Monthly - 2019

Scott & Scott, LLP Voted Technology Law Firm of the Year - USA
Finance Monthly - 2018





Scott & Scott, LLP Voted Technology Law Firm of the Year - USA
Lawyers Worldwide - 2018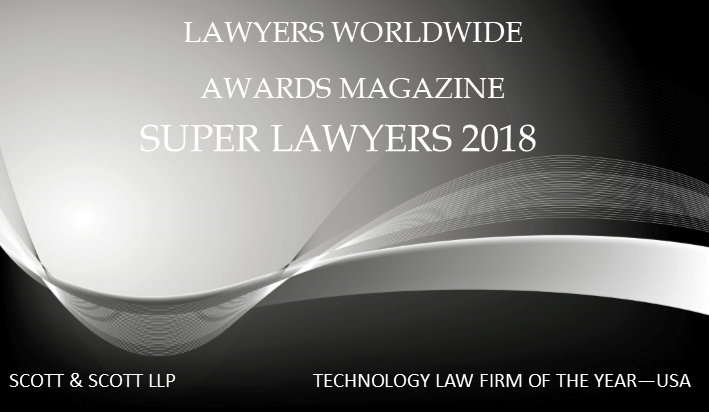 Scott & Scott, LLP Voted Technology Law Firm of the Year - USA
Finance Monthly -2017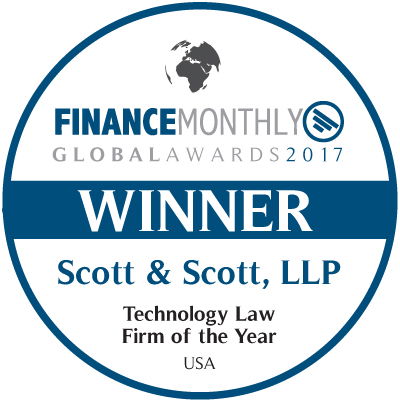 Scott & Scott, LLP Voted Technology Disputes Law Firm of the Year - USA
ACQ5 - 2017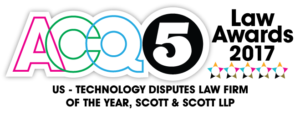 Scott & Scott, LLP Voted Full Service Technology Law Firm of the Year - USA
ACQ5 - 2017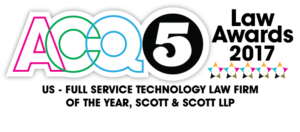 Scott & Scott, LLP Voted Niche Law Firm of the Year - USA
ACQ5 - 2017




Scott & Scott, LLP Voted Technology Law Firm of the Year - USA
Finance Monthly - 2017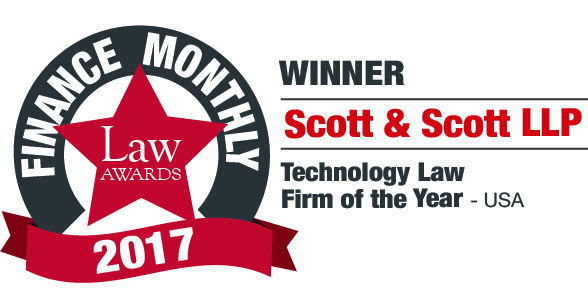 Scott & Scott, LLP Voted Technology Law Firm of the Year - USA
Lawyers Worldwide - 2017





Scott & Scott, LLP Recognized as USA – Full Service Technology Law Firm of the Year
ACQ5 - 2016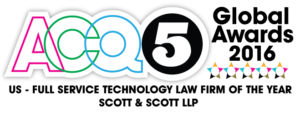 Scott & Scott, LLP Voted Technology Law Firm of the Year - USA
Finance Monthly - 2016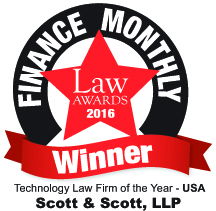 Scott & Scott, LLP Voted Technology Law Firm of the Year - USA
Lawyers Worldwide - 2016





Scott & Scott, LLP Voted Technology Law Firm of the Year - USA
Finance Monthly - 2015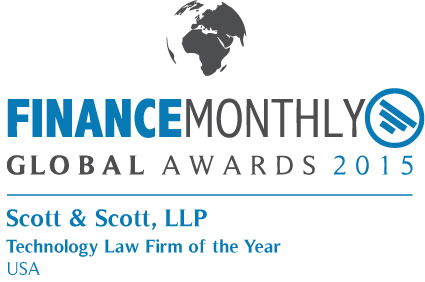 Scott & Scott, LLP Voted Technology Law Firm of the Year - USA
Finance Monthly - 2014